News
School
List SKEMA Business School in the Education section of your Linkedin profile (instead of CERAM or ESC Lille)
15 March 2021
In 2009, CERAM, in Nice-Sophia Antipolis, and ESC Lille merged to create SKEMA Business School. What was initially just a "project" has now become a success story to the benefit of 9,000 students, 500 staff members, and 48,000 alumni around the world. The proof of this success is undeniable: rise in rankings, obtainment of three international accreditations (EQUIS, AASCB, EFMD Accredited EMBA). The school is now present on 7 sites: 3 campuses in France (Lille, Sophia Antipolis, Paris), 1 in China (Suzhou), 1 in the United States (Raleigh), 1 in Brazil (Belo Horizonte) and 1 in South Africa (Cape Town - Stellenbosch).
Enriched by our roots, to continue on this trajectory we must now more than ever draw on the power of the alumni network, because your career successes are the principal element that enhances the value of SKEMA's diplomas.
By mentioning SKEMA Business School on your Linkedin profile, you contribute to accelerating SKEMA's development as well as your career.
Why update your Linkedin profile to mention SKEMA Business School?
To show that you are proud to belong to an impressive network of 48,000 alumni;

To contribute to developing the SKEMA brand and increasing the value of the school's diplomas, and to take advantage of this evolution;

To be visible and recognized as a member of the community;

To facilitate interaction between the different generations of alumni;

To make it easier to update your contact details in the alumni directory (thanks to SynchroLink) and facilitate dealings with the school's teams.
How?
In the Education section, add or change the name of your school to "SKEMA Business School" by being careful to select the "SKEMA Business School" account (white SK logo against a coral red background) that will appear in a dropdown list once you start typing the first letters of the name. If you are successful, the aforementioned logo should appear in your Education section, as in the example below: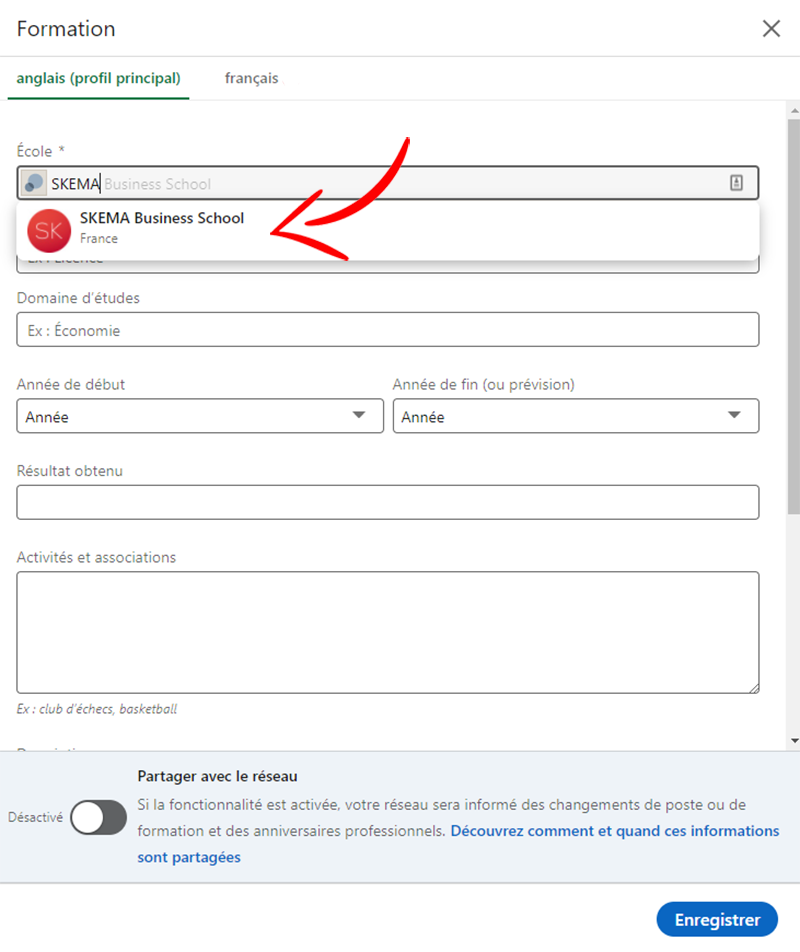 Taking a minute today to feature SKEMA Business School in your Linkedin profile and then, later on, in other places such as: the "University" section of your Facebook profile, your CV (paper version and online), your company bio, your press interviews… contributes to building up the school's reputation and highlighting the exceptional careers of SKEMA alumni!