News
Maxime Buhler and Samuel Carré (SK 2017) are Poké mad!
16 September 2019
In under two years, Maxime Buhler and Samuel Carré (two friends from the SKEMA Digital Marketing Class of 2017), co-founders of Pokawa, the leader of the poké bowl market in France, have found themselves at the head of 15 restaurants, with a turnover of 15 million euros and 150 employees.

Here's a presentation and some advice from a hot start-up!

Poké or poke (from the Hawaiian po.ke, meaning "cut" or "section") is one of the main dishes in traditional Hawaiian cuisine. It is composed of diced raw fish and served as an entrée or main dish. Pokawa's poké bowls are in step with the trend of eating tasty, healthy food. They're made with fresh, home-made ingredients and are full of vitamins.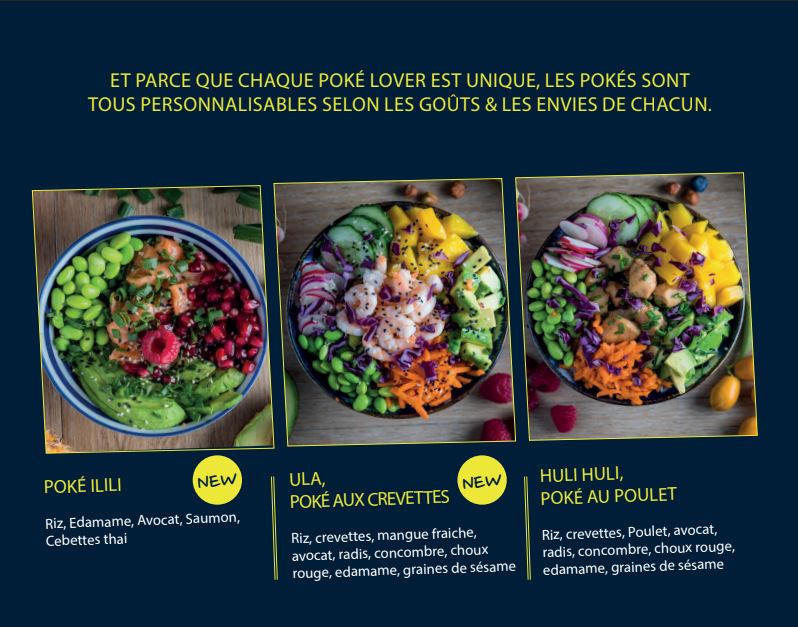 What sort of background do you need to embark on such an adventure?

We met at SKEMA in first year. Since then, we have followed the same path, from Lille to Suzhou, then we took a gap year and spent our final year training in Paris from September 2016 to July 2017.
What we learned in our Digital Marketing programme helped us choose our brand's digital strategy. From the outset, we've focused a lot on digital and social media. We got our first customers by approaching influencers.
The poké bowl idea revealed itself to us during a road trip in Latin America midway through our studies. As fans of surfing, we'd made it a habit to visit the best surf spots on the Pacific Coast and it's in Mancora, Peru, that we discovered what a poké bowl was. Once back in Paris, we decided to work as bike couriers to fund the rest of our studies and our restaurant plans. That experience showed us that there was a huge demand for "healthy" delivered food. This confirmed to us that it was worth testing our concept.
Samuel had already started a shoe brand, in the crowdshipping format, managed via Instagram, and then he got experience working for BNP in cash management. As for me, I joined the Stuart start-up, specialising in bike deliveries, via an app. We wanted to start a venture together, something that was more representative of us! We've always had an entrepreneurial spirit and we love a good challenge. That is what drives us each day and pushes us to continue opening restaurants every month!
Has the network been important for getting started and growing the business?
SKEMA has given us a lot, both in terms of open-mindedness - thanks to our semester in China, for example - and in terms of the network. The people that have been key since the start of the Pokawa adventure are all from the same year as us (accounting, finance, etc.) and I also met my business partner, Samuel, at the school. We also decided at the start to recruit as many Skemans as possible for our restaurants, because we were sure of their skills and the fact that we went to the same school made them more invested in the venture. We've never been disappointed by the team; that's why we want to recruit more of our staff through the SKEMA Business School alumni network.
You could turn to the network for...?
For recruitment! This is a hot issue for us since we're in hypergrowth right now, opening one new restaurant per month on average. We're aware of the resources needed to support this growth. It is difficult to find good people and we want to put Skemans in Pokawa's key positions.
We're also looking for financing to expand our operations abroad.
Can you tell us about your business model?
Management: from the outset we wanted to keep expenses to a minimum; for each euro spent we asked ourselves if it would allow us to earn more.
Locations: our concept doesn't require any extraction (no cooking). This has allowed us to rent much cheaper premises. The majority of our premises are rated "1 bis" in France, meaning they are "next-to-best" locations. This is not a problem for us, as 60% of our turnover is generated by deliveries.
Opening hours: our "barakawas" are open 7 days a week all year round, giving easy access to Pokawa products.
Delivery: this lever has enabled us to increase our turnover exponentially and quickly.
Human resources: we made the deliberate choice of slightly understaffing our shops to optimise each one's productivity.
Centralised production: we have achieved significant economies of scale by setting up our production system in a lab out in the suburbs. This allows us to rent smaller and cheaper premises.
Social media: our brand is strong on social media, particularly on Instagram where from the start we approached influencers to get ourselves known.
And so you have a lot of plans for expansion?
In 2019: we're really pushing development in France outside the capital, with 20 non-franchised units before the end of the year; we're launching the first franchises; we're opening in shopping centres, notably Val d'Europe and Euralille.
In 2020: we're taking the business abroad. We've already signed in Belgium, England, Luxembourg, Switzerland, Spain and Dubai.
We'll also be launching a new brand offering locally sourced organic products!
Find out more: http://www.pokawa.com/
Delivery zone: https://www.pokawa.com/zone-de-livraison/
Find our job vacancies here: https://www.pokawa.com/recrutement-2/


[POKAWA IN THE (FRENCH) PRESS]
Hypercroissance : les conseils de Pokawa pour tenir dans la durée (source: Les Échos)
Pokawa a posé ses valises à Aix-en-Provence pour son premier restaurant dans le sud (source: La Provence)
Franchise restauration : quels sont les plats préférés des Français ? (source: Toute la Franchise)
Quoi de neuf côté produits et chaînes (source: Snacking)
15 barakawas pour Pokawa (source: L'Hôtellerie Restauration)