News
SKEMA Trash Hero in Singapore: taking action for the environment!
04 February 2019
854.5 kg of trash picked up in an hour and a half(!) under the tropical sun by 14 of our courageous SKEMA Alumni Singapore members and some fifteen other volunteers from the non-profit Trash Hero Singapore. This clean-up held on Saturday 26 January 2019 at Yishun Dam was record-breaking according to the organisation. Unfortunately, that just goes to show the extent of the global environmental problem we are now facing, given that the city-state is, paradoxically, renowned for its cleanliness and for the discipline of its citizens.
To date, the many private and governmental campaigns pushing the "Three R's" - reduce, reuse and recycle - have only had a limited impact on the habits of Singapore's residents. As already noted by Jesse from the SKEMA Class of 2016 who arrived in Singapore just a year ago:

"Waste management clearly isn't up to the standard of everything else in Singapore. Plastic consumption is omnipresent here (straws, unlimited plastic bags given out at the supermarket, etc.); it's a real shame, especially as I'm not convinced that the waste sorting gradually being implemented here is really all that useful: the sorted bins are all emptied into the same waste collection truck!"
Jean-Philippe, from SKEMA's Class of 2007, has been living in Singapore with his family for three and a half years and echoes Jesse's concerns:
"Singapore is an extremely modern country on the cutting edge of technology and innovation, but unfortunately plastic bags are handed out freely in supermarkets here, take-away from food courts is served in single-use polystyrene boxes, and waste sorting at home is neither mandatory nor systematic."
The result: close to two billion plastic items are used in the country each year according to a study conducted by the Singapore Environment Council (SEC), and less than 20% of that is recycled (The Straits Times, 31 juillet 2018). That is an alarming finding.

Rosana, Marianne, Tristan and Christophe, the SKEMA Alumni Singapore team of ambassadors, have been coordinating the school's local network for several years and for the first event of 2019 they all agreed to take action to further an environmental cause rather than opting for the usual social and professional events. They decided on Trash Hero, whose initiatives are spreading in the region and around the world, whereas the movement is just getting started in Singapore. Promoting it via our network is an important first step towards the goal of contributing to improve the environment in our adopted country, which gives us so much. The feedback from Soukaina, from the SKEMA Class of 2017, and Clémentine, from the SKEMA Class of 2010, is encouraging:

Soukaina: "Thanks to SKEMA Alumni and Trash Hero for this day that helped to raise our awareness of our planet's well-being. I'd like to attend more of this kind of event, as well as other sporting and professional events, because I think our group still has a lot of potential."
Clémentine: "As I'm often travelling for work, I've only participated in 2 SKEMA events since arriving in Singapore, but I find them varied and always very enjoyable. Making them purposeful like this latest event is a bonus that shouldn't be overlooked for future events. Keep it up!"
As pointed out by Robbin, a young Singaporean volunteer representing Trash Hero, when the morning's eco-friendly activity was drawing to a close, the goal is to make people aware of the extent of the environmental disaster we're all contributing to a little more each day, so that we all start taking the actions needed to slow, and hopefully one day even reverse, this phenomenon. One of the first actions is to remember the fourth "R", which can make a difference to our consumption habits: Refuse. Refuse plastic bags at the supermarket (bring your own shopping bag), refuse straws and plastic cutlery, refuse advertising flyers, and so on.
Jean-Philippe: "I'm pledging to say no to straws at fast-food restaurants and to stop using single-use plastic cups at work and at home."
Jesse: "(...) using my shopping bags for my groceries seems worth it now. As for my consumption habits, I'm going to try to order less take-away food from now on."

One of our ambassadors, Tristan, has committed to implementing a "no straws" policy at his workplace and making sure people respect it. This is a great initiative that will contribute to the positive butterfly effect of the SKEMA Trash Hero 2019 event.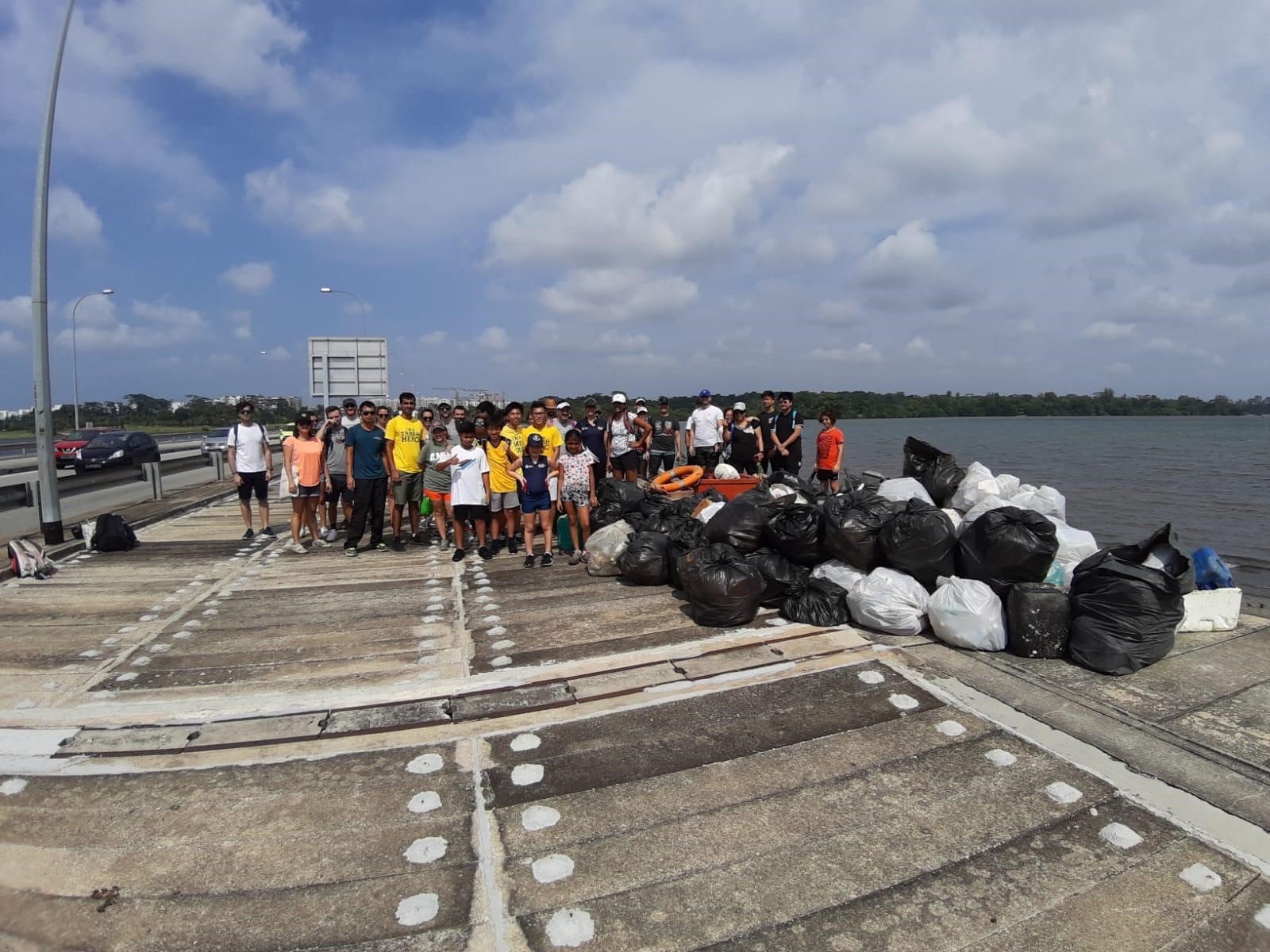 Marianne Wlassewitch, Rosana Ear, Tristan Theurier and Christophe Altaie (SKEMA Alumni Singapore)
Marielle Dehopère-Porte, Audrey Touyon (SKEMA Alumni France)

Join SKEMA Alumni Singapore