Axel Carion (SK 2008) has just completed a huge cycling challenge of his own in the Peruvian Andes.
Actualités
Parcours
Axel Carion (SK 2008) has just completed a huge cycling challenge of his own in the Peruvian Andes.
11 septembre 2019
Axel Carion (SK 2008), founder and organiser of the Bikingman series of ultra-distance cycling events, has just completed a huge cycling challenge of his own in the Peruvian Andes. His 16-day Chaskis Expedition covered some 1,900 kilometres from Cusco to Conococha and included 38,000 metres of elevation gain. The route crossed 35 passes higher than 4000 metres and a couple of times reached just shy of 5000 metres.
During the ride, Carion was accompanied by fellow ultra-cyclist and adventurer Jonas Deichmann, who will be making a record attempt on the 18,000km Cape to Cape, from the Northern Cape of Norway to Cape Town in South Africa, this September. See more about Jonas Deichmann's Cape to Cape record attempt.
The Chaskis expedition was sponsored by Citroen Peru, who provided a C5 aircross to document and film the journey, and by Open, Ortlieb and Rotor. WTB supplied a bike.
See more about Bikingman, which stages bike-packing races in Oman, Corsica, Laos, Peru, Portugal and Taiwan, ranging from 750km to 1650km. See more about Bikingman.

First a bit of Form.
Axel Carion: I didn't ride a bicycle much before 2011, but then two friends asked me to join them on a cycle ride through Slovakia, Ukraine, Romania and Moldova…. I said yes before I thought about it. I had no idea what I was letting myself in for and I certainly wasn't prepared (my bicycle weighed 50 kilos, like a tank on 2 wheels, and I had countless t-shirts and spare parts!). However, it turned out to be the best holiday I've ever had. We covered around 120-150 km each day through these extraordinary countries.
It changed my life forever, by planting two seeds: first for a personal addiction to riding long distances, and second, a question - "How can I share this amazing experience with others?"
The next year I rode across Bulgaria, Romania, Serbia, Macedonia and Albania, about 1,500km over 10 days, and then 1,800km in Morocco, spending 12 days crossing the Atlas mountains. In 2015 I rode the length of South America, 13,500 kilometres / 154,000m of elevation gain, from Cartagena on the Caribbean Sea to Ushuaia at the southern tip. And during that trip I decided I wanted to set up a series of events. The essence of bike-packing is to go as fast and as far as possible, and this is what I created in Bikingman.

Why the Chaskis Crossing ? Why now?
Axel Carion: During my 2015 expedition, I was accompanied by two friends. I was in charge of planning the route. One segment I had considered on maps and blogs was the Peru Great Divide. The expedition was so brutal on the team that we had a vote (once we made it to Peru!) to decide whether we would go for i - it was two against one against, so I had to postpone the idea for the time being,. But it has remained on my mind as "unfinished business". In 2018 I went back during a recce ride, accompanied by two Bikingman finishers from IncaDivide 2018, and we "got our asses kicked", barely covering 450km in more than a week on gravel bikes.
I had to come back, better prepared this time, and with all the experience gathered in the Andes, and attempt to ride it as fast as possible…

What was the most challenging aspect of the trip?
Constant high altitude. There were very few segments below 3,000 meters. I live at sea level, so there was no chance to acclimatize before the expedition. The body needs to adapt, your breath is cut by 50% at 4,000m, your legs won't power more than 120 watts, and then you find you're on gravel with a 16% gradient and a ridiculous pride of "never pushing your bike up a hill!"... High altitude is a game changer for cycling, it turns your past experience to trash. Anyone searching to learn something and build their mindset should try riding at high altitude.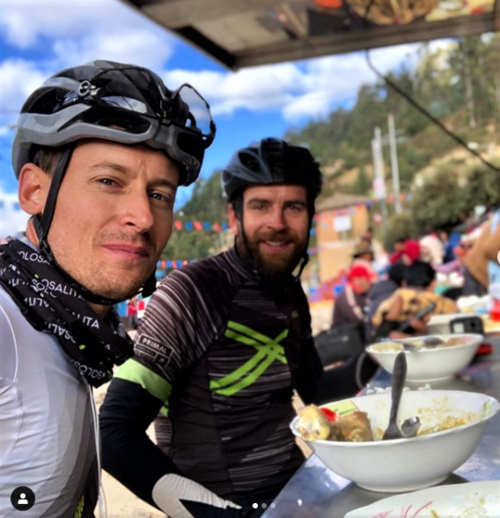 (Sept, 2019) Read more on https://alifeofadventure.net/
Axel Carion (SK 2008)
Founder, BikingMan
Founder, IncaDivide Race
Founder, BikeTrippers