News
Ecole
SKEMA Social Ventures Awards 2020: discover the five winners
09 October 2020
The SKEMA Social Ventures Awards recently acclaimed five SKEMA entrepreneurs, students and graduates for their entrepreneurial projects incubated by SKEMA Ventures, all showing particular promise in terms of innovation, societal and environmental impact and deployability.

​The SKEMA Social Ventures Awards ceremony took place on 25 September in multiplex mode at SKEMA's Lille, Paris and Sophia Antipolis campuses.

The 23 competing entrepreneurial projects included 18 managed by students and five by graduates. They were assessed by a jury consisting of several departments: SKEMA Ventures, the financial department and the SKEMA Foundation department. Selection was based on several criteria: market opportunities, the value proposition (for individuals, the economy, the environment and society in general), business model and business plan, development plan, team coherence, and finally, details on how the award would be used.
"Social entrepreneurs had a threefold challenge in terms of creating value for individuals, the economy, and society in general. The projects that won the SKEMA Social Ventures Awards were put forward by SKEMA students and graduates alike. This line-up illustrates the approach initiated several years ago within SKEMA Ventures to support social entrepreneurship. And in these problematic and uncertain times, a period that has also spawned new models, the world now being constructed needs players who commit themselves in a different way. Through the SKEMA Social Ventures Awards, we wanted to honour these very special projects that create both wealth and meaning" said SKEMA Ventures director Philippe Chéreau.

The 2020 winners:

First prize (€10,000) went to the INPACT project of Candice Lemonnier (SKEMA 2018 graduate).
InPact offers a range of protein pancakes made from cricket flour to athletes seeking an alternative protein source. Containing 60% protein, the pancake can be made in less than 5 minutes. A new brand of eco-responsible sports nutrition, INPACT meets all nutritional needs, and is ideal for starting the day as breakfast or as a snack before or after training.
INPACT has also received the PACA Region Student Entrepreneurship Award.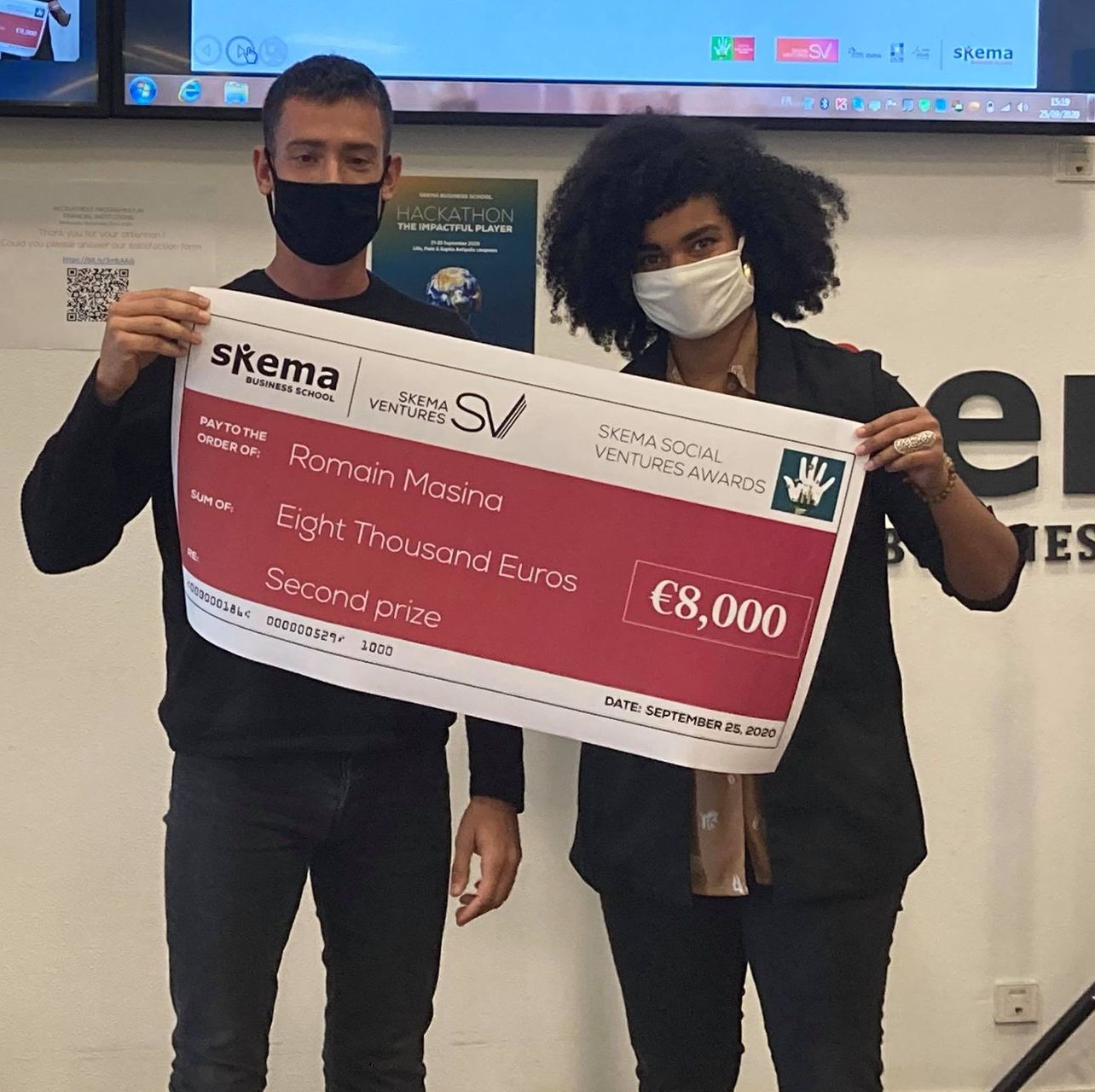 Second Prize (€8,000) went to ODYSWAY by Romain Masina (SKEMA 2015 graduate).
Odysway is an agency specialising in immersion travel with local populations, and offers responsible, authentic tourism based on a slow travel model. Odysway's trips involve memorable experiences and immersions of several days in local communities, giving travellers the opportunity to enjoy a unique experience.

Third Prize (€6,000) went to TH(EARTHY)/BOTCUP of Jules Colin (SKEMA student, PGE M2).
The Botcup is an innovation that reinvents the reusable cup found in all types of organisations. It enables a cup suitable for large events to be transformed into a bottle that can be reused on a daily basis.

Fourth prize (€4,000) went to FRENCH ACOUSTICS by Timothée Caron (SKEMA student, PGE M1).
French Acoustics creates eco-designed, high-end portable loudspeakers made in France. The Diamond range consists of four models ranging from PROTON, an ultra-portable loudspeaker, to ROCKET, one of the world's most powerful portable loudspeakers. French Acoustics has also won the PEPITE PACA-Est 2020 BPI award.

Fifth Prize (€2,000) went to the UCANGO project of Ludivine Bourgeois (SKEMA student, PGE M2).
Ucango is the first security, solidarity and mutual aid mobile app made by travellers for travellers. It provides travellers with support and assistance if they encounter problems during their stay.

Congratulations to all the participants, finalists and winners!

The SKEMA Ventures Awards are financial endowments allocated to a project (capital or current account contribution) or the project holder(s) to finance any development-related activity. They are supported by SKEMA Giving.

Source : SKEMA Ventures