News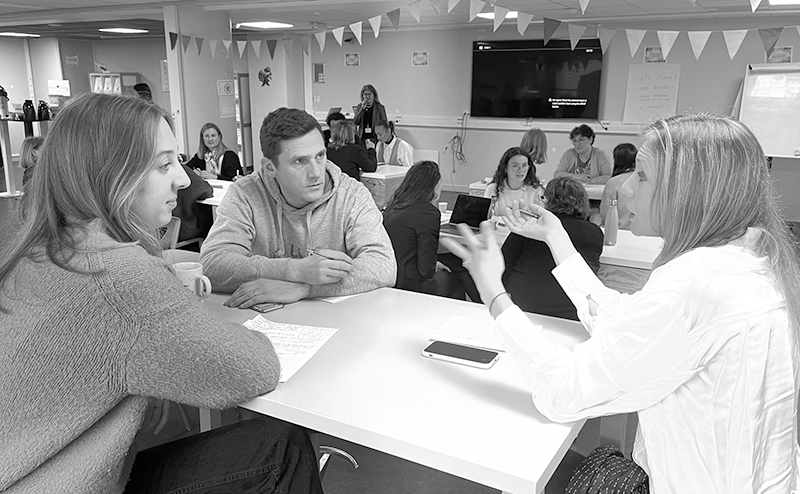 Events
Choosing International Women's Day on 8 March to hold the 4th edition of the reverse mentoring workshop for entrepreneurs: a brilliant idea!

The result of a collaboration between SKEMA Ventures (Franck Hanoh, a SKEMA 1990 graduate and the head of SKEMA Ventures Lille), SKEMA Alumni, the SKEMA faculty (Stephanie Chasserio), the Force Femmes association, and the student association Ventures Club, this event, held at the KCenter on the Lille campus, brought together some twenty people, including alumni-entrepreneurs, students and women business owners, to support, advise and challenge 5 entrepreneurs from the Force Femmes association and a SKEMA graduate in the early stages of business creation, or even to help them pivot if need be.
Laurent Varjacques (SKEMA 2008), a chartered accountant; Henri Bervick (SKEMA 2010), the founder of L'Equipée Verte; Amelie Fenzy, (SKEMA 2004), the founder and director of Valeurs & Valeur; Rosalie Dubly (SKEMA 2010), who is starting a business after working in Marketing Management at Auchan; and Ingrid Robil (SKEMA 2007), who is starting a business after last working in HR at Norauto, shared their advice and experience with these women entrepreneurs who came looking for an outside perspective.
This year, for the first time, our two alumni who are setting up their own businesses were also able to receive guidance during this intergenerational workshop, while sharing their own advice based on their previous professional experience.
In the convivial setting of the KCenter, the attendees, from a cross-section of generations, got to share and swap tips and information on financial and legal matters, but also on topics relating to marketing and communications. Thank you to our alumni for their generosity and commitment!

Testimonials from our alumni-entrepreneurs
"What struck me was how complementary the visions and contributions of the SKEMA students, the alumni and the women I met were. Also, their ability to structure their value proposition and fine-tune their pitch in just 3 hours!"
"I've received a lot, so I like to give back. The highlight: when one participant realised she had to find balance between her passion and the business."
"Thank you for this great time spent sharing!"
"As an alumna, it was only natural that I would agree to participate in this reverse mentoring workshop. I was delighted to be back at the school :) and to offer up my contribution to this school that is so dear to me. As a young entrepreneur, it was very enriching to share what I'm going through with other alumni who have already been there. Exchanging best practices and business cards is always necessary!"
Student testimonials
"I think that this experience, involving a mix of generations, allowed everyone to find new ways forward, a different perspective on things, and a moment of sharing where time seemed to stand still. Thanks again to Forces Femmes, SKEMA Ventures and the alumni for having made this meeting possible once more." - Jade
Testimonials of Force Femmes entrepreneurs
"I enjoyed the event because of the melting pot of contributors. The mix of generations and profiles (students, entrepreneurs) allowed me to get different and interesting views on my project."
"This day was very enriching for me. I really appreciated the discussions with the students and professionals. I went away with new ideas. And I encourage all new business creators not to hesitate to participate in this workshop to discuss, share, question, and learn. You come out of there enriched and motivated."
"I came to SKEMA not knowing what to expect, because I was not in my usual element or comfort zone. I was delighted with the simple and friendly welcome from the team, who were able to put me at ease and explain the process clearly without putting pressure on me."
"I found the discussions with the students and the entrepreneurs very enriching; they allowed us to get a fresh perspective from people who are not in our usual bubble - people to whom we have to present our venture in the clearest and most appealing way possible and who give us friendly, helpful feedback on the areas that need developing, along with concrete action plans. I also really liked the initial questioning phase; it helps to identify what is not clear in the presentation and what needs to be worked on urgently."
"The finale with the new challenged pitch was very motivating and gave me lots to think about!"
"All my thanks to the team, the students, and the entrepreneurs."